TU8555
Inline Turbidity Transmitter for High Range and Suspended Solids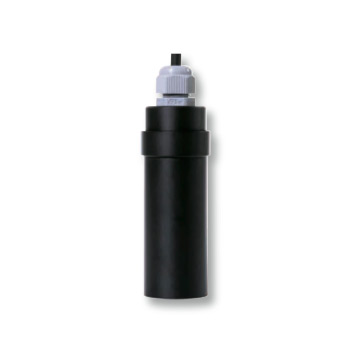 The TU8555 is a Turbidity Sensor with integrated electronics designed to output a 4-20mA signal, proportional to the turbidity measurement. The TU8555 is designed for mounting inline into pipework or for mounting into a sample line from pipework.
The TU8555 uses an infrared light emitting source and a 90° photoreceptor to measure back scattering over a high range of turbidities.
Manufactured in PVC with IP68 rating, the TU8555 is designed to be mounted directly into pipework or into a sample line such as our model TU910 inline probe holder.
---
4-20mA Inline Turbidity Transmitter
The TU8555 is a unique piece of equipment. It combines a nephelometric turbidity sensor complete with integrated electronics to provide an isolated 4-20mA output, proportional to the turbidity measurement.
The industry standard 4-20mA output signal is isolated into 600Ω and designed to give easy integration with a wide range of control equipment. The 4-20mA signal is simple to connect to a PLC, digital Chart Recorder, universal controller or even our online Data Logger.
The 4-20mA output is loop powered, which means that the same two wires which carry the 4-20mA signal are also the same two wires which power the device. This makes integration with PLC's and other control equipment incredibly straightforward.
---
Turbidity Transmitter with NTU Ranges
The TU8555 is designed for use where the turbidity is high, or the clarity is very low due to the propensity of suspended solids. Applications for the TU8555 include effluent treatment applications, aquaculture and water quality monitoring.
The ranges available with the TU8555 are as follows:-
Turbidity Ranges and Resolutions
Turbidity Range (Formzine Turbidity Units)
0 - 100 FTU
0 - 1000 FTU
0 - 10'000 FTU
As a microprocessor driven device, the TU8555 can communicate with a personal computer using a hyper-terminal client and serial interface. By accessing the device, the ranges and the output type can be adjusted in the instrument software.
---
Total Suspended Solids or Turbidity Ranges
The TU8555 can be configured using a personal computer with serial communications. The ranges can be adjusted from 0-100 FTU through to 0-10'000 FTU or alternatively the TU8555 can output a figure in TSS or Total Suspended Solids as mg / L or PPM.
In waste water treatment aeration tanks, it is common to set a co-efficient from FTU to mg/L as 1 FTU = 1 mg/L.
As each application is unique an instrument calibrated using Formazine in FTU's cannot automatically output a signal in PPM or mg/L , therefore we recommend adjusting the TSS to Turbidity Co-efficient, depending upon your application. We suggest measuring the turbidity value of a sample, and then using a gravimetric method to calibrate the sensitivity of the receiver. This way, you have the same value on the PLC / Controller as from the laboratory analysis.
If the conversion factor is significantly different from 1 FTU = 1 mg/L then we recommend periodically checking the gravimetric measurement to ensure the TU8555 is harmonised with you laboratory results.
---
Inline Turbidity Transmitter
The TU8555 is designed to be mounted either inline directly into pipework using a locking nut, or to be installed into a sample line cell. This is where a secondary line runs for the primary pipework, through the sample line flow cell, and then the sample discharges to drain.
Turbidity measurements in very clean water, such as drinking water, are susceptible to false positives from bubbles in the measured solution. As bubbles are caused by water discharging to atmospheric pressure, flow cell TU910 includes a tightening tap to allow the sample flow cell to remain pressurised and prevent bubbles affecting the measurement.
When installed directly into pipework or the sample cell, the TU8555 is designed to operate to pressures of up to 6 Bar. In addition, using the infrared spectrum the TU8555 is not affected by the colour of the measured solution and within the pipework, should not be affected by bright light blinding the photoreceptor.
---
Inline Turbidity Transmitter Features & Benefits
The TU8555 is a genuinely unique instrument. Designed to be permanently mounted into pipework or a sample line such as TU910 is gives continuous turbidity readings and outputs a 4-20mA signal, proportional to the turbidity measurement.
Designed to offer precision measurements even when measuring very high turbidities, the TU8555 can measure as high as 0-10,000 FTU or across a low range down to 0-100 FTU for additional granularities at low ranges. Using a personal computer hyper terminal, the serial interface allows the range to be changed from 0-100 FTU, 0-1000 FTU or 0-10,000 FTU.
The PVC body and IP68 rating allows the cell to be permanently mounted into pipework and withstand a pressure of up to 6 Bar. The isolated industry standard 4-20mA can interface with a wide arrange of PLC's and other control instruments which can be easily connected using just 2 wires.
The TU8525 also offers a digital RS485 output which can be used to connect to a supported device.
TU8555 Inline Turbidity Transmitter Specifications
Specifications

Inline High Range Turbidity Transmitter

Model No:- TU8555

Turbidity Range:- 0-100 FTU

Turbidity Range:- 0-1000 FTU

Turbidity Range:- 0-10,000 FTU

Zero NTU:- ±10 FTU all ranges.

Sensitivity:- 70% / 130%

Materials and Rating:- Manufactured in PVC to IP68

Analogue Output:- 4-20mA isolated into 600Ω

Digital Output:- RS485

Operating temperature:- 0-50°C

Operating Pressure:- 6 Bar at 25°C

Power supply:- 9 / 36 VDC

Weight:- 800 grams

Features

Inline Turbidity Sensor for installation into pipework or a sampleline to give continous or online Turbidity measurements.
Ideal for applications with a high propensity of total suspended solids, such as waste water aeration systems or aquaculture monitoring.
Exceptional accuracy even at very high ranges, a maximum upper range of 10,000 FTU all in the same compact design.
Simple to install and connect to measurement and control equipment - the 4-20mA current output is loop powered, meaning that the same two wires that transmit the signal also transmit the measurement signal.
The TU8555 has no moving parts and requires minimal periodic calibration and maintenance.
Factory set or configurable via computer - the TU8555 can be periodically calibrated using a personal computer and the instrument can be re-ranged for alternative applications as required.
Designed specifically for precision measurements in waste water aerators, in aquaculture monitoring and effluent treatment monitoring applications.