BT300
300 Litre Bund Tank (330L Capacity)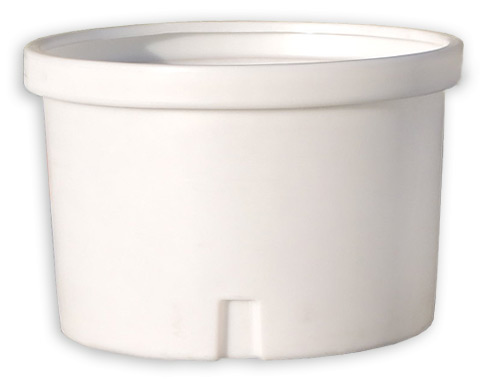 300 Litre Bund Tank manufactured in MDPE with 330 Litre capacity
---
300 Litre Bund Tank BT300 Introduction
The BT300 is a Bund Tank for use with our 300 Litre Dosing Tank and can hold 110% of the capacity of the rated dosing tank, giving it a capacity of 330 litres.
The 300 Litre Bund Tank model BT300 has dimensions of 940 Ø x 620 H (mm) and is designed specifically for use in the water treatment, effluent treatment or process applications.
Manufactured in the UK using a single piece moulding, the BT300 is constructed from U.V. Stabilised MDPE (Medium Density PolyEthylene).
The BT300 provides a simple and cost effective way of providing spill containment to a 300 Litre Dosing Tank, ensuring compliance with current Health & Safety guidelines, enabling at least 330 litres of containment in the event that the chemical dosing tank has become compromised.
---
Stackable 300 Litre Bund Tank
For ease of storage requirements, the BT300 is manufactured with a tapered design to allow a number of bund tanks to be stacked together.
The folded over top of the bund tank is designed with fingers in mind, ensuring that a stack of bund tanks can be easily separated without jamming and being as easy on the fingers as possible.
The single piece construction and rolled over edge also increases the mechanical strength of the bund tank, ensuring it remains rigid, even when full.
---
Bund Tank Equipment Mounting
The BT300 is a medium sized Chemical Bund Tank, designed for use with a chemical container with a capacity of 300 litres. When pairing the bund tank with a dosing tank fitted with a flooded suction kit, or foot mounted inlets / outlets, we recommend ensuring that there is enough space for all the mounted equipment. If space is limited, we recommend using the bund tank which is one size larger. In this instance, the 500 Litre bund tank BT500.

---
The BT300 is the companion bund for the DT300 dosing tank which is designed to stand inside the bund tank, allowing the top of the tank to be accessed easily. The BT300 Bund Tank has a capacity of > 330 litres in total, which is designed to offer compliance with Health & Safety legislation and to provide containment in the event of the tank becoming compromised.
---
300 Litre Bund Tank Features & Benefits
The 300 Litre Bund Tank model BT300 is manufactured in the UK using moulding techniques to give single piece construction with no welds or seams, ensuring greater mechanical strength.
Designed specifically to provide spill containment to the DT300 dosing tank with 110% of the DT300's capacity, the BT300 can contain at least 330 Litres to satisfy current health and safety guidelines.
The BT300 is manufactured in chemically resistant MDPE to ensure compatibility with a wide range of chemical reagents. Please don't hesitate to get in touch if you wish to check the complicity of your reagents with MDPE.
In addition to the chemically resistant properties, the MDPE is also supplied to food grade standards and is U.V. stabilised to ensure no discolouration to the tank, even when stored outside.
BT300 Specifications
Specifications

300 Litre Bund Tank

Model No:- BT300

Capacity:- Greater than 330 Litres

Max. Operating Temperature:- 40°C

Materials:- MDPE (Medium Density PolyEthylene)

Standard Colours:- (U.V Stabilised) Natural

Accuracy:- ±2% of stated sizes.

Dimensions:- 940 Dia. x 620 H (mm)

Features

Designed to provide spill containment for 300 litre dosing tank DT300 offering 110% of the DT300's capacity.
Manufactured in the UK using a one piece rotatory moulding process - with no seams or welds.
Designed to satisfy current health & safety legislation.
Designed specifically for use in water treatment, effluent treatment and process control applications.
U.V stabilised MDPE to food grade standards.