LE6/5
Level Electrode For Chemical Usage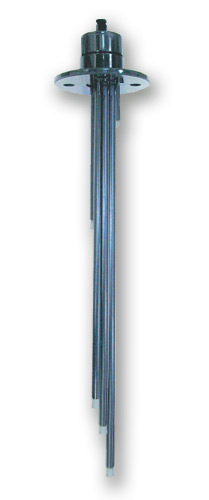 The LE6/5 conductive level electrode is designed to be used in chemical reagent tanks or in other applications where the media attacks Stainless Steel.
---
Chemical Level Electrode LE6/5 Introduction
The LE6/5 is a conductive level electrode comprising of 5 x level electrodes and a holder designed for use in chemical reagent tanks, or other applications where the chemical being used attacks stainless steel.
The LE6/5 is manufactured in PVC with butyl rubber seals, and has a resin injected carbon graphite electrode for greater chemical resistance.
The 5 x level electrodes are supplied to a standard length of 1200mm, and can easily be removed and cut to size to ensure compatibility with your tank or vessel. We can also supply the level electrodes cut to length prior to shipping.
Mounting of the LE6/5 is either via a table D flange or with a Union Fitting so that the level sensor can easily be mounted into your tank.
---
Chemical Level Electrode LE6/5 Simple System Integration
The LE6/5 has a sealed corrosion resistant housing at the top of the electrode assembly which gives a weather proof enclosure to contain the electrical connections.
Access to the electrical connections is via a removable threaded housing at the top of the electrode assembly which is supplied, complete with a sealed gland.
This allows the electrical connections to be passed through the gland and sealed while also allowing for easy access for the electrical connections to be made. Designed to integrate with our ALC1101 Level Controller, connecting the LE6/5 to the level controller is straightforward, and the sealed nature of the electrical housing ensures that clean and constant connections can be made.
---
LE6/5 Level Electrode for use in Chemicals
The LE6/5 is designed to provide a cost effective way of controlling the amount of chemical in reagent tanks.
Common applications of the LE6/5 include mounting into chemical reagent tanks to allow full liquid level automation, normally for controlling pumps or solenoid valves, as well as to operate high level and low level alarms. Often the LE6/5 is used to alert chemical suppliers and process users that a low level of chemical reagent is present. If only switching between levels, or high and low chemicals alarms are required then we also offer the LE6/3 which includes 3 x level electrodes.
It's important to check that the chemical reagent is compatible with the wetted parts of the LE6/5 level electrode. If you're uncertain then please don't hesitate to contact us or speak with your chemical supplier.
---
Chemical Level Electrode LE6/5 Features & Benefits
The LE6/5 level electrode is primarily designed for controlling the level of chemical reagent tanks.
As such the LE6/5 is designed and manufactured without Stainless Steel to ensure that where chemical can corrode stainless steel, the LE6/5 remains unaffected.
The 5 x level sensors in the LE6/5 are supplied with a standard length of 1.2 metres and can be easily cut down to size to ensure compatibility with a wide range of chemicals, including IBC's.
The Table D flange mounting or Union mounting options ensure that the whole assembly can be securely positioned into most reagent vessels to give continuous automatic operation of common level applications.
With the corrosion resistant sealed weatherproof housing at the top of the chemical level, the LE6/5 can be mounted outside if required, and making the electrical connections to a compatible Liquid Level Controller couldn't be easier.
Designed as a robust level electrode for automating chemical processes, the LE6/5 is designed to give a long and maintenance free operational life.
Chemical Level Electrode LE6/5 Specifications
Specifications

Conductive Level Electrode For Chemical Usage

Model No:- LE6/5

Wetted Parts:- PVC, Butyl Rubber, Carbon Graphite

Level Electrode Measurements:- Supplied 1200mm long

Mounting Type:- Table D Flange or Union (pictured above)

Electrical Connection:- Weatherproof Enclosure with Sealed gland

Applications:- Chemical applications - please check compatibility.

Compatible Level Controller:- ALC1101

Features

Free from Stainless Steel, making the LE6/5 Ideal for use where chemical reagents react with Stainless Steel.
Includes 5 x 1200 mm long level electrodes - designed to be cut to length to integrate into your process vessel.
Electrical connections via corrosion resistant weather proof housing, ideal for mounting outside in chemical vessels.
Manufactured in PVC, Butyl Rubber and Carbon Graphite - the manner of construction means the LE6/5 is completely free from tracking.
Table D Mounting flange or union mounting to offer threaded connections or receiving lock nut to secure into place in process or reagent tanks,