P7685 Redox controller
Proportional Redox Controller for proportional control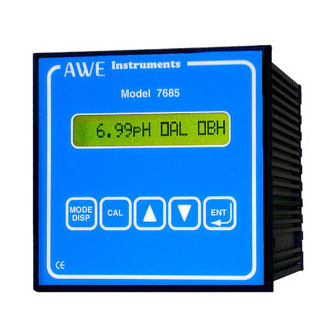 The P7685 Proportional Redox controller is available in either panel mounting or surface mounting configuration.
P7685 Proportional Redox Controller Introduction
The P7685 Redox controller is designed to provide reliable, accurate, repeatable and dependable measurement and control of the Redox value in many industrial process.
For those applications where precise control is required our model P7685 proportional Redox controller is the ideal partner featuring two proportional outputs, an expandable 4-20mA output and an alarm relay with delay timer.
The P7685 has a 16 character alphanumeric LCD that displays the measured parameter and provides information about the state of the control and alarm relays. Also accessible is an indication of the operating condition of the sensor.
The versatility of the microprocessor accompanied by the user-friendly software allows the programming of the functions, routine checks and calibration to easily be accomplished even by untrained operators. The model P7685 proportional redox controller is a microprocessor panel mounting Redox (mV) / pH / Temperature instrument.
The controller is designed for control panel mounting in a 92 x 92mm din standard cutout and is also available as a surface mounting instrument.
The key design of the P7685 instrument is the precision measurement of a solutions Redox value or pH value and then to proportionally control equipment relative to this value.
The measuring discipline is user selectable between a redox electrode, pH electrode or Antimony pH Probes. The temperature input provides both a selectable temperature indication and auto temperature compensation of the pH range.
The P7685 proportional redox controller measures across the ±1000mV for the Redox range and across the full 0.00-14.00 pH scale. The temperature is measured and compensated from -10ºC to +110ºC for stand alone or pH measurements.
For Redox measurement we recommend pairing the P7685 with an AWE Platinum band Redox Probe or another precision Redox probe.
The unit operates from a power supply of either 110 VAC or 230 VAC 50/60Hz.
---
Redox Controller Proportional Control Relays, PFM, PWM, or On/Off Control and Alarm Relay.
The model P7685 proportional Redox controller features two control relays which can be programmed for either On/Off control, PFM control to proportionally control electronic metering pumps or PWM to time proportionally control solenoid valves or small pumps.
The P7685 is also fitted with an adjustable alarm relay with delay timer. This can operate on both a high and low measured value.
The proportional control relays offer PFM (pulse frequency modulation) output for proportional control of our electronic dosing pumps. The P7685 has adjustable set points and is proportional band selectable.
As a proportional Redox controller, the P7685 is excellent for maintaining a redox value during process critical operations. For instance when the requirement is pre-treatment of water prior to passing through a Reverse Osmosis membrane to remove any residual chlorine, a 100mV setpoint is often used and then a reducing agent such or as Sodium Metabisulfite (or another sulphur dioxide salt) is dosed. Using the proportional control relays the 100mV can be accurately maintained and wastage is significantly reduced by not over-feeding the reducing agent.
---
Redox controller with expandable 4-20mA for proportional control
The P7685 Redox Controller has an expandable 4-20mA current output, which can be set to be proportional to the measured value.
The industry standard 4-20mA is both powered and isolated to 600Ω and works with compatible dosing pumps as well as PLC's, Data-loggers, and other associated items.
The 4-20mA is expandable across the full redox measured range (and pH if the instrument is configured for this parameter) and can be expanded across a set range, for example a value of 20mA at 100mV and a value of 4mA at 300mV. In this example a figure of 200mV would have a current signal value of 12mA.
The P7685 proportional Redox controllers are normally available for ex-stock deliveries.
Specifications

Model No:- P7685

Redox Range:- -1999 to +1999 mV

pH Range:- 0-14.00 pH

Temp. Compensation:- Manual or Auto via 3 wire PT100 or PT1000

Temp. Range:- -10ºC to 110ºC

Input:- Redox Electrode, pH electrode, Antimony pH electrode

Set Points:- 2 on/off, high/low selectable, 5 amp inductive

Action:- On/Off, PFM, PWM, and with delay timer

Current output:- Expandable 0-20 / 4-20mA isolated into 600Ω

Zero:- Adjustable

Slope:- Adjustable

Mains Supply:- 230 Volt / 115 Volt, 50/60Hz.

Power Consumption:- 5 VA

Weight:- 850 grams DIN version

Dimensions:- 96 x 96 x 155mm cutout 91.5 x 91.5mm

Features

Sophisticated microprocessor based instrument with a huge array of control options
Despite the array of options the P7685 has a simple menu driven setup and configuration procedure
Proportional Redox control means that the Redox value can be brought in line using less chemical and precisely controlled for Redox critical applications.
User configurable to either Redox or pH, and can also work with Antimony Electrodes, making it perfect for HF (Hydrofluoric Acid) applications.
PFM control relay for use with proportional controlled dosing pumps, PWM controlled relay for use with solenoid valves
Expandable 4-20mA or 0-20mA output and invertible 4-20mA / 0 - 20mA, meaning that the high and low points can be expressed over a custom range Redox scale or pH scale either for proportional control, or greater resolution over a finite Redox or pH scale - particularly useful in process critical Redox or pH applications.
Alarm relay, delay times, expandable and invertible outputs, all within a precision Redox / pH controller - the P7685 is an excellent instrument for even the most complicated Redox or pH control tasks.