Our Double Door Panels Are Back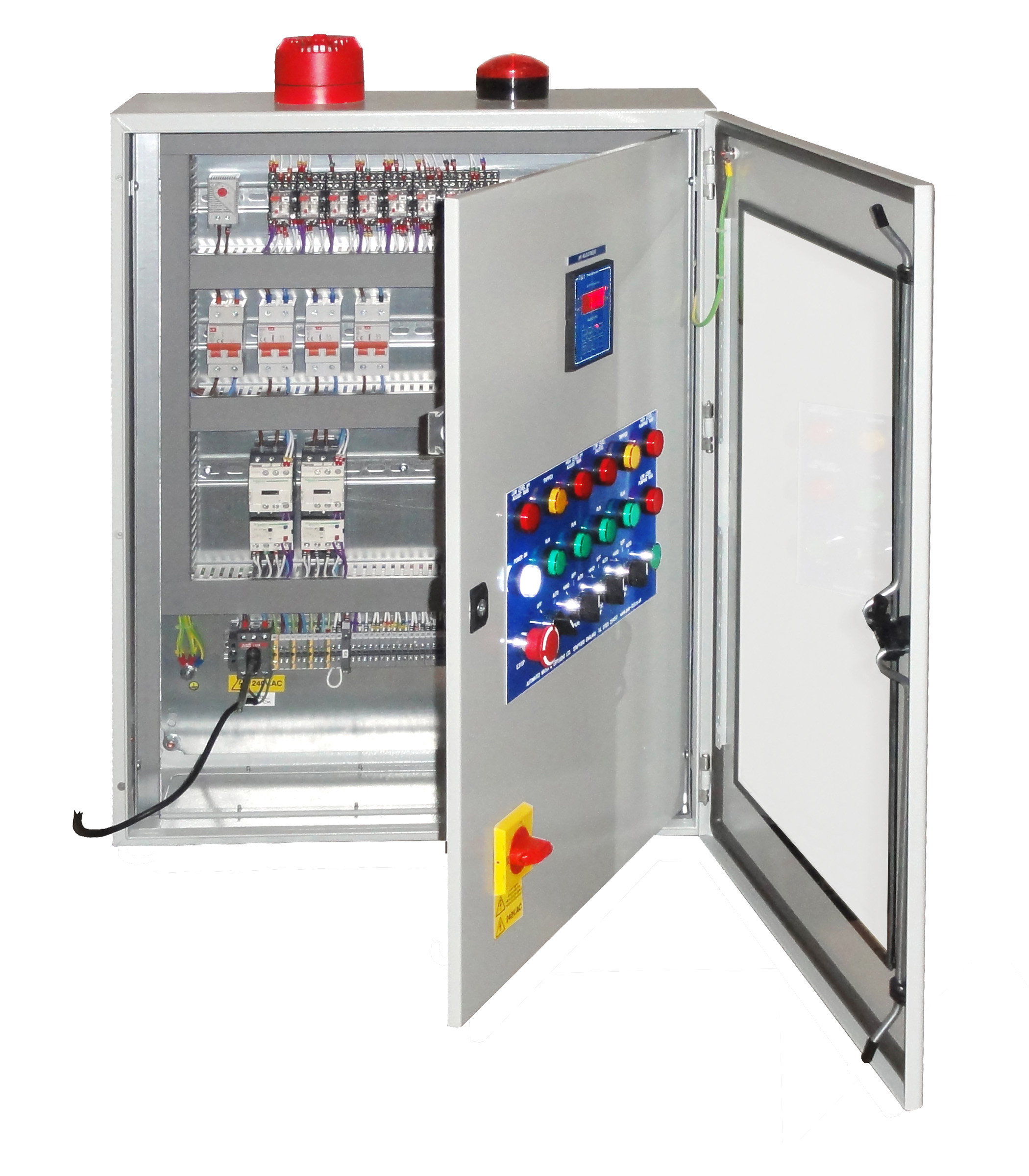 We are delighted to announce our double door instrument control panels are back, this is a weather proof control panel featuring an outer glazed door and an inner instrument door. The benefit is that the instruments are mounted inside the panel and viewed through the outer weather proof glazed door.
The door has to be opened to operate the controls and to calibrate the instruments, but with our controllers and a calibration station that only takes a few minutes. This means no cutting holes in the outer panel door for the controllers to fit into. Even with the best intensions the panel IP rating is lost when this is carried out. The inner instrument door is hinged and fitted with an interlocked isolator, allowing safe access to the panel components.
Weather Proof E-stop and alarm mute buttons can be located on left or right side of the panel, to save opening the glazed outer panel door.
---
New 120L/Hr Dosing Pumps
The TM-07 is a brand new cost effective motor driven dosing pump. We have added to our existing range of wall and foot mounting electronic dosing pumps. The TM-07 is available with outputs from 10 Ltr/Hr to 120 Ltr/Hr and supplied with a foot valve and injection fitting.
The TM-07 dosing pumps are fitted with PVDF heads for greater chemical resistance when dosing concentrated reagents. Ceramic ball valves material (EPDM or Viton) need to be specified when ordering.
For dosing of food grade products or pharmacutical applications, an optional stainless steel head is available, the suction and discharge valves on this option have BSP threads for connection to the user's supply stainless steel pipework.
We can supply non return valves; dosing quills and foot valves in 316 stainless steel to suit if required.
The TM-07 dosing pump is a high efficiency foot mounting dosing pump driven by a 0.6 kW electric motor, The motor is available as 230 VAC single phase or 400 VAC three phase.
To help with spare inventory, the TM-07 is fitted with the same valves and accessories as supplied with our AT4 and GEA4 series of red electronic dosing pumps, which many of our existing customers will already know as simple reliable and cost effective items. These are available from stock. Please call our sales hotline or see our website for details.
---
Buffer Station
Every customer that uses our pH, Redox, or Conductivity instruments for the measurement and control of their process will need to calibrate them regularly to obtain accurate results.
Since the company started in 1982, we have always offered service contracts. We are happy to continue this arrangement for our new customers. Please contact Chris Michael our Technical Director who will be able to organise this for you.
To make life easy for our service team we supply the Service Engineers with a what we call buffer station. Some customers have asked if we can supply one for thenselves to use between our service visits.
The buffer station comprises of a custom made corrosion resistant holder. Which holds three wide neck bottles containing 500 mls of a different pH solition which colour coded to avoid mixing up the buffers the colour of the solution will change if its pH value changes and becomes contaminated. Red for 4.00pH, green for 7.00 pH and blue for the 9.00pH. Included the kit is a wash bottle for demin water rinse and a bottle for the users own cleaning solution.
The buffer station also has a tall middle section with a carrying handle. Attached to this section are clips to secure the electrode to stop it falling over while you enter the calibration details into the controller or transmitter being calibrated. Spare boxes of buffer powder with a small bottle of colour indicator are available fro m our sales department.
---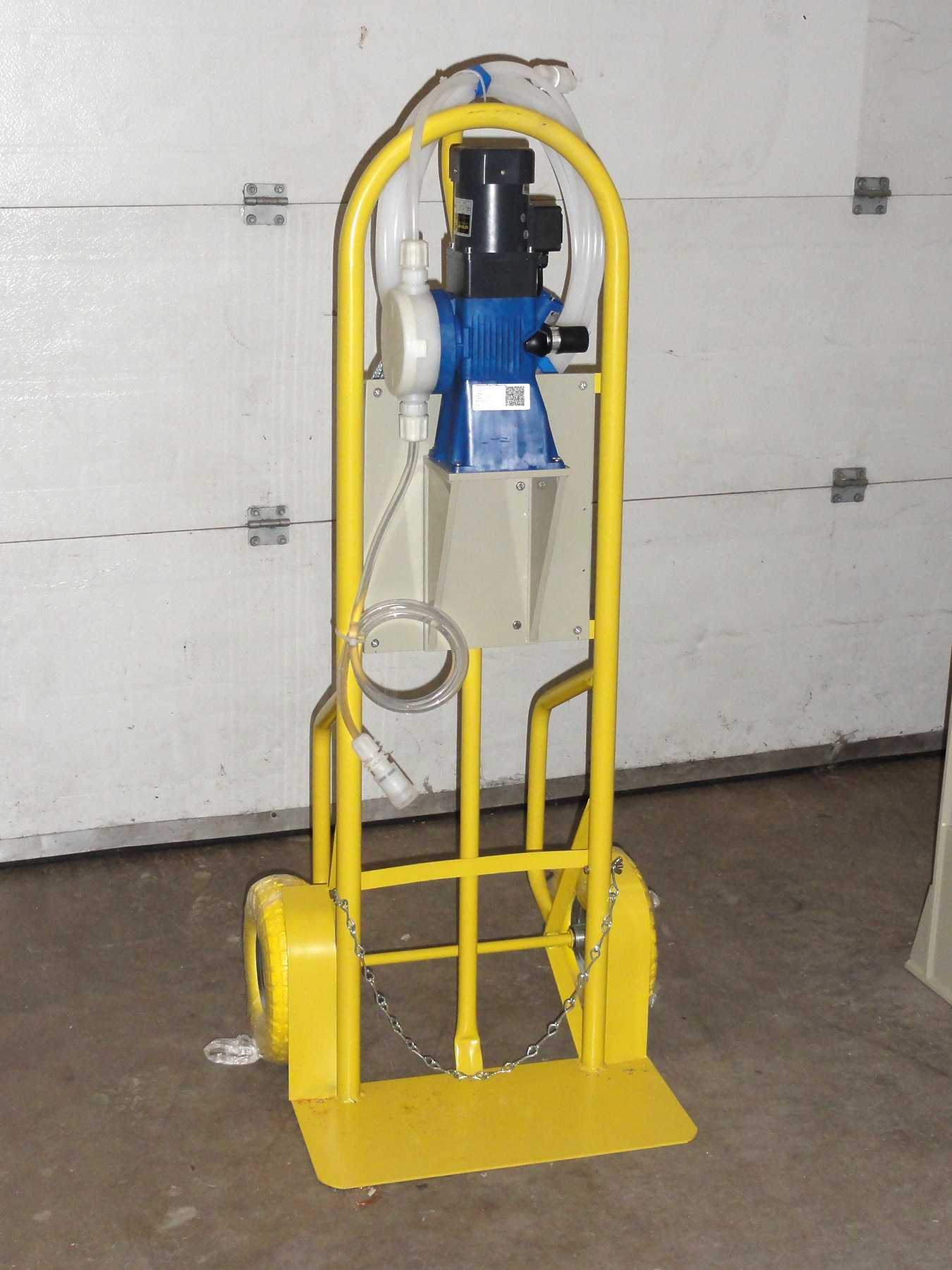 Portable Dosing
After the launch of the TM-07 dosing pump, we had an enquiry from a water treater for a portable system to comprise of a high output dosing pump and a method of transporting a drum of chemical reagent. We had built these some years ago for the water treatment industry for shot dosing sodium hypochlorite into dead legs of pipework which had low flow rates of water, usually in the building services industry.
This was the same enquiry but the customer required a higher flow rate than we had supplied before, so our new model TM-07 was ideal for the job being a cost effective pump. The TM-07 is available from stock with a single phase motor.
A bonus feature worth noting is that the pump suction and discharge fittings are the same used by our customers before, so they are likely to already have the necessary spare parts to hand.
We built the unit shown opposite on a heavy duty sack truck, fitted with a motor starter with thermal overloads to protect the pump motor.
As an option, this unit could also be built with a suction lance assembly connected to one of our custom built control panels, with an isolator switch; start stop buttons warning lamp for low solution levels, with automatic stop to prevent the pump running dry. Just one of many simple packages to make life easy for our customers. Remember you heard it on the AWE grapevine.