PES-2-QR
Large Diameter Inline pH Probe System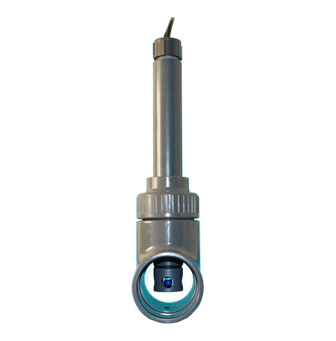 The PES-2-QR is an inline pH probe system designed to give online pH measurements in large diameter pipework. The system is designed to ensure that the pH probe remains in constant contact with the solution being measured.
The PES-2-QR also includes a quick release mechanism allowing the probe to be removed simply and easily for periodic calibration or pH buffering.
As the PES-2-QR is a larger diameter inline pH probe system, it is designed for use in pipework with a minimum diameter of 2". We are able to offer custom sized inline pH electrode holders so if you have a specific piece of pipework you're looking to work with, then please get in contact with us, using the below form.
---
Large diameter inline pH Probe System PES-2-QR
The PES-2-QR has our special custom quick release fitting. This ensures that the pH probe is held in the flow for online pH measurements. The system is designed to work with both the annular reference pH probes and the tuff tip varieties. Specifically it is designed to work with the PS183-20B, the PTT183-20B and the PTT283-20B. If you have a requirement to Measure pH in Hydrofluoric acid then we offer the antimony pH probe AS183-20B.
The PES-2-QR large diameter inline pH probe system is designed to be solvent welded into the existing pipework so that the PES-2-QR becomes part of the existing pipework. We are able to manufacture the inline pH probe holder with either flanged or threaded fittings. If you have any specific requirements then please let us know via the form below.
As with the PES-1-QR quick release pH electrode holder, we do recommend that isolation valves are installed prior to and after the inline pH probe system. This ensures that when the pH probe requires periodic calibration, it can be safely removed without the risk of the process solution spraying all over the operator.
For a system which allows the pH probe to be removed without having to stop the process, we offer the self-isolating lock-n-load retractable inline pH electrode system.
---
Large Diameter inline pH Probe System PES-2-QR Materials of construction
The standard PES-2-QR is manufactured in PVC and is rated for use in a temperature range from 0-50ºC.
We also offer the PES-2-QR in Kynar (PVDF) which increases the operating temperature range from 0-100ºC. We strongly recommend pairing the PES-2-QR with a suitable pH probe such as the PTT283-20B or the AS183-20B, if the application is appropriate.
Specifications

Large Diameter pH inline electrode system

Model No:- PES-2-QR

pH Electrode:-

Operating temperature:- 0-50ºC

Materials of construction PVC

Options:-

PVDF
316 Stainless Steel
Optional Mounting for a temperature sensor

Features

Designed specifically to hold an industrial pH probe insert within large diameter pipework for continuous online measurement - which means that there is no need for sampling.
The PES-2-QR becomes a permanent part of the pipework and ensures that the pH probe is in constant contact with the solution being measured.
The quick release fitting ensures that the pH Probe is held snugly into place and can be simply removed using the quick release fitting
Available with a custom sizes and a number of different fitting types including, threaded, flanged or for solvent welding into place.
Manufactured in PVC as standard but with options available for PVDF if you have aggressive chemicals or higher temperatures, and 316 Stainless Steel for brewery, dairy or other required industry sectors

Data Sheets