RES-1-QR
Inline Redox Sensor Holder With Quick Release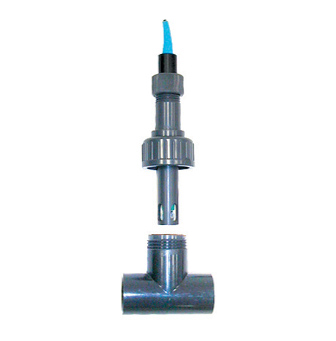 Inline Redox sensor holder model RES-1-QR is designed to hold a Redox electrode in the flow of a liquid within a pipe.
---
Inline Redox sensor holder RES-1-QR
The RES-1-QR has a chamber which secures the Redox electrode within the pipework. A standard 12mm diameter Redox electrode can slip into the retaining sleeve snuggly reducing any movement, either lateral or vertical. Combined with the flared ryton cap, (common to all our pH electrodes and Redox electrodes) ensures that the sensor cannot be pushed too far into the pipework, to the point where it might be damaged.
The RES-1-QR is specifically designed so that the Redox electrode sits directly into the fluid running through the pipework. This ensures that the Redox value is constantly being measured while preventing the Redox electrode from being exposed to air which can shorten the lifespan of the Redox sensor.
The RES-1-QR is designed to be either solvent welded into 3/4" pipework, however, the RES-1-QR can be supplied with threaded connections for screwing into pipework.
---
Inline Redox sensor holder RES-1-QR with Quick Release fitting
The quick release mechanism is a superb design. It allows the Redox electrode to be easily removed to allow for periodic calibration or cleaning. The collar holding the mechanism in place is simply unscrewed and the electrode removed from it's retaining sleeve.
The RES-1-QR quick release mechanism doesn't self seal so we do recommend that isolation valves are fitted before and after RES-1-QR. We offer a Redox sensor holder that doesn't require isolation valves called the lock-n-load so that the process solution is safely isolated and the pipework drained to ensure compliance with all the required health and safety legistlation.
The RES-1-QR can be used with any Redox electrode from our range and the quick release inline Redox sensor holder has a specially designed chamber which allows the Redox sensor to sit snugly in place, preventing damage from occurring to the tip of the Redox electrode.
---
Inline Redox Sensor holder RES-1-QR materials of construction
The RES-1-QR is our standard unit and is manufactured in PVC. It's rated for a temperature range of 0-60ºC.
Features

Holds a glass or plastic bodied Redox electrode within the pipework for continual online Redox measurement - which means that there is no need to tap existing pipework for an insertion Redox electrode or to run a sample line from the process solutions.
The Redox electrode fits into a sleeve holding it in place - it also protects the tip of Redox sensor from being broken.
Solvent weld and BSP threaded as standard and options for reducing or increasing bushes depending upon the requirements - so the RES-1-QR can be easily installed into most types of pipework.
Quick release fitting means that it's easy to get the Redox electrode out for periodic calibration and buffering, and really simple to get it back into the process again - no more time wasted in try to unscrew electrodes and twisting the cable

Data Sheets