P7335
Panel Mount Redox Controller in 48 x 96 Din Spec.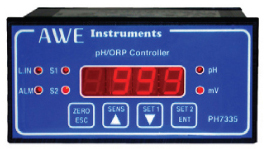 The model P7335 is our small case Redox controller and is a member of our series 7335 analytical instruments. The 7335 series are housed in 48 x 96 din standard enclosures which are only 95mm deep and designed for mounting in panels where space is at premium.
The P7335 Redox (ORP) millivolt / pH Controller features selectable ranges for Redox millivolts over the range of 1000 mV to +1000 mV. The user can also select whether to measure and control pH with a glass electrode, as well as pH using an Antimony electrode which may be used in solutions containing HF acid.
For pH measurement, the temperature compensation may be manually set over the range of 0-100ºC or automatically compensated for over the range of 0- 100ºC, by the use of a temperature sensor which is user selectable. A bright red LED indicates the selected mV or pH, the main readout features a 4 digit red LED display, which provides excellent visibility and provides the user with messages for setup and operation.
The front panel includes 4 keys that allow the user to access the most frequently used functions. Two programmable control relays are fitted. The control relays can be programmed for either high or low operation and have adjustable delay timers. One adjustable alarm relay with delay timer is fitted, which may be set to operate on both a high and low measured value.
The isolated current output corresponds to the measuring range selected, either Redox in mV or the pH value, and can be selected for either 0-20 mA or 4-20 mA.
The versatility of the microprocessor accompanied by the user friendly software allows the programming of the functions; routine checks and calibration, to be easily accomplished even by untrained operators. Installation of the 7335 series of instruments is intended to be into a control panel or in the optional surface mounting enclosure.
The rear of the case is fitted with plug-in connector blocks, for ease of installation and maintenance.
---
Compact Redox Controller 4-20mA output for use with PLC's and Chart Recorders
The P7335 Redox Controller has an isolated current output which corresponds to the measuring range selected (either pH Control or Redox Control) and can output either a 0-20mA or a 4-20mA signal. The current output is non-expandable and is most commonly used with a PLC or Chart Recorder.
Specifications

Model No:- P7335

Redox Range:- -1999 to +1999 mV

pH Range:- 0-14.00 pH

Temp. Range:- -0ºC to 100ºC

Temp. Compensation:- Manual or Auto via 3 wire PT100 or PT1000

Input:- Redox Electrode, pH electrode, Antimony pH electrode

Set Points:- 2 min / max selectable, contacts SPST, 5 amp inductive

Action:- On/Off with delay timer of 0-100 secs

Current output:- 0-20/ 4-20mA isolated into 600Ω

Zero (Redox):- ±100mV

Zero (pH):- ±0.02pH

Slope:- 80%-110%

Mains Supply:- 85-264 Volt, 50 / 60Hz switch mode power supply

Power Consumption:- 6 VA

Weight:- 400 grams DIN version

Dimensions:- 48 x 96 x 95mm cutout 45 x 92mm

Features

Small Sized Redox controller for fitting in existing control panels.
Precision Redox or pH monitoring for process control and effluent applications.
Easy to setup and install even for untrained engineers
Bright display for dark installations.
± 1mV hysteresis banding and dual set points.
Powered current output for data-logging and PLC based applications.