TPP
Thermowell (Temperature Pocket) with Compression Fitting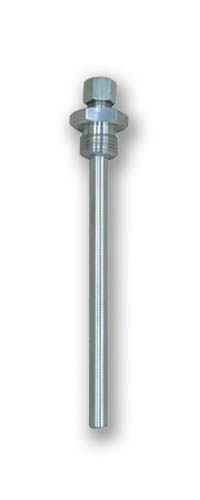 316 Stainless Steel Thermowell (temperature pocket) for use with a temperature sensor measuring 6mm Ø.
Thermowell TPP Introduction
The thermowell model TPP is a 316 stainless steel temperature pocket, designed to accommodate a temperature sensor measuring 6mm in diameter.
Manufactured in all-welded stainless steel to Food Grade standards, the TPP thermowell has a 1/2" BSP process thread, allowing it to be screwed into a socket and held in place. A temperature sensor with a 6mm Ø can slide into the temperature pocket and be secured in place with a compression fitting.
The TPP thermowell is designed specifically for temperature sensors without a process fitting, such as the TPA-2-N and the TPA-3. We don't recommend using a thermowell with the TPA-2-A due to the weight of the aluminium causing undue stress on the temperature sensor stem.
Thermowell TPP Installation
The TPP Thermowell is designed to be screwed into a process which can either be an inline or pipework installation, or alternatively into a welded boss on a tank or other process vessel.
The standard fitting is a 1/2" BSP male thread. We can offer alternative sizes if required.
The insertion length of the TPP is 75mm and can be manufactured shorter / longer as required.
The diameter of the thermowell is designed to accommodate a 6mm Ø temperature sensor. A collar and lock nut can simply slide over the temperature sensor assembly and the temperature probe then slides inside the thermowell and the lock nut and collar are tightened to hold the temperature sensor into place.
When installing the thermowell into a process, we recommend that the minimum and maximum temperatures of the process are between - 50°C and + 250°C which is inline with the maximum and minimum temperature ratings for our temperature sensors.
Thermowell TPP Features & Benefits
Using a thermowell on a process is a great advantage for temperature measurement within industrial processes.
A threaded boss, designed to accept a 1/2" BSP threaded connection can often be specified when commissioning tanks or pipework, or installed into existing equipment during scheduled or period shut down. With a threaded boss in place, a temperature pocket can be permanently installed and the temperature sensor easily removed for periodic maintenance, commissioning or calibration, without having to stop the process.
With the TPP using a compression fitting which is designed to hold a PT100 or PT1000 BS1904 standard temperature sensor, the process solutions temperature can be precisely monitored or controlled.
Manufactured in 316 stainless steel, the TPP thermowell offers both excellent thermal conductivity properties and the all-welded construction makes it suitable for Food Grade applications.
With a compression fitting securing the temperature sensor in place, the insertion length of the sensor can be manually adjusted to ensure that the sensor is placed at the tip of the thermowell.
TPP Specifications
Specifications

Thermowell in stainless steel with compression fitting

Model No:- TPP

Range:- -50°C to + 250°C

Installation:- 1/2" BSP Male process fitting

Mounting:- Compression fitting for 6mm Ø temperature sensor

Material:- 316 Stainless Steel all welded construction to food grade standards

Sensor Type:- Suitable for 6mm Ø Temperature sensor without process fitting

Insertion Length:- Standard 150mm

Ordering Information

| Model Number | Insertion Length | Process Fitting |
| --- | --- | --- |
| TPP-XX-PF050 | XX = length in mm | 1/2" BSP Male |
| TPP-XX-PF075 | XX = length in mm | 3/4" BSP Male |
| TPP-XX-PF100 | XX = length in mm | 1" BSP Male |

Please note the TPP thermowell / temperature pocket is only suitable for the 6mm diameter temperature sensors without a process connection - such as the TPA-2-N. (We advise against using the TPA-2-A due to the weight of the aluminium head).